Affiliate Disclosure: As an Amazon Associate I earn from qualifying purchases.
Are you ploughing through the beach sand rather than riding on your electric bike?
Maybe you're riding the wrong electric bike that isn't built to withstand higher drag on the beach sand. Or maybe the bike doesn't have wide tires to cruise through soft sand on the beach smoothly.
The most feasible solution here is choosing an electric bike with all the necessary features to handle such terrains. Simply get through our reviews of the best electric bikes for sand and pick the right one to suit your needs.
And don't miss the factors you need to consider to make the selection process easier.
Can You Ride An Electric Bike On The Sand?
Yes, you can ride an electric bike on the sand. But you need to consider a few factors before you start traversing the beach. Regular electric bikes with narrow tires aren't good for riding on the sand.
You will have a bumpy ride with narrow tires on because narrow tires have less air inside. Plus, the traction on the tires will be too low as the surface area is smaller. So, narrow tires tend to sink into loose sand while you ride.
It is better to get an electric bike with fat tires to ride on the sand. Fat tires have more air inside to give you better cushioning. Also, the surface area of the tire will be greater to give better traction.
Remember, riding on hard-packed sand is much more comfortable than riding on soft-packed sand. This is why you need to ride close to the waterline, where the sand is quite hard. Beware of incoming tides so the electric motor doesn't get wet.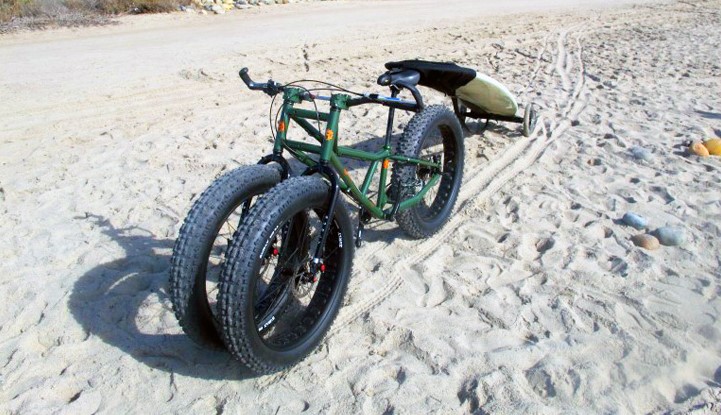 Another important thing while riding on the sand is the fender of your electric bike. If the fender isn't wide enough, a lot of loose sand, dirt or debris can harm the drivetrain.
You should always clean your electric bike after riding on the sand. Cleaning your electric bike properly ensures the bike doesn't catch any issues like faulty drivetrain or gears.
How Many Watt Electric Bike Do You Need For Sand?
Cruising through beach sand takes a powerful motor and fat tires with wide fenders. While riding on hard-packed sand needs a bit less power, riding on soft-packed or loose sand requires much more power.
This is where riders get confused. Entry-level electric bikes with a 250W motor can be good for riding on paved roads. But such a bike will face difficulties while riding on beach sand.
So, you should go for something more powerful. A 500W electric bike can be ideal for occasional riding on beach sand. But if you ride on loose sand frequently, an electric bike with a 750W motor will be the best.
Besides, you need to ensure the bike has at least 4-inch tires to give better traction and riding comfort. Fenders should be wider than the tires so that the bike remains protected from sand or dirt.
Having a Pedal Assist System will be a plus here so that you don't put much strain on the electric motor to extend its durability. And don't forget to clean the bike every time you get back from a ride on the sand.
What Are The Best Electric Bikes For Sand?
Comparison Chart:
6 Best Electric Bikes for Sand Reviews 2023
Check these electric bikes for sand and narrow your choice down to find the right bike faster. See how these bikes will perform in real life.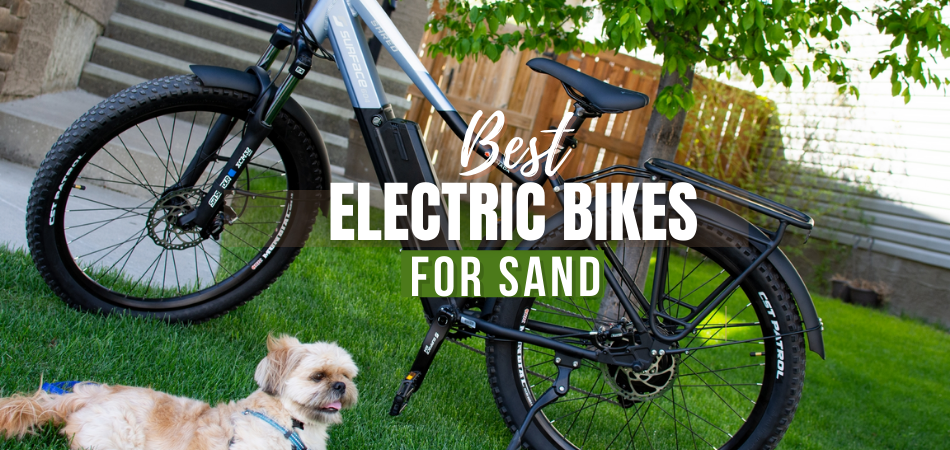 1. Editor's Choice: R RATTAN 750W 20Inch Folding Electric Bike
The R ATTAN Folding Electric Bike is a great way to get around town without the hassle. With an affordable price tag, it's perfect for any budget! You'll love all of its features that make it easy and enjoyable on your feet – including 7 speeds in total as well as LED lights which are safe when riding at night.
Three Mode
The RATTAN Electric Bike is an affordable, lithium battery-powered bike that can go up to 75-80 miles on one charge. It has 3 working modes: E-Bike mode with 45 or 50 mph speeds for those looking forward to commuting.
PAS pedal-assist system helps riders go even faster if they are feeling competitive about their commute time. And traditional bicycle where you're limited only by how fast the rain slows your ride home.
Shimano 7 Gear
Using an electric bike is more fun when you have the power to make your ride easier or harder. The Shimano classic variable-speed transmission system on RATTAN's best electric bike for beach sand helps riders overcome from hills to the beach.
This bike allows them to change gears at any time depending on what kind of terrain they are riding through.
Comes ready to Ride
The RATTAN is a bicycle that can be put together and ridden out of the box. It comes with pre-installed tires, fenders for when you go on its dirt road adventures or keep it clean by riding to work every day in style!
There's no need to worry about installing pedals with this best Electric Bikes for Sand because they're already attached. Just add your helmet and clothing, then hop on over.
Heavy Duty Construction
R-RATAN E-Bike is a premium, high-end bicycle that uses the best materials and has been designed for comfort. The aluminum frame, with its lightweight, makes it strong enough so you won't tire easily while riding on dirt roads or even long distances.
Anti-slip tires provide safety when going around turns at higher speeds.
Specification
Wheel: 20 Inches
Suspension: Rear/Front
Type: Foldable
Tire width: 4 inch
Color: Gray
Material: Aluminum Frame
Summary
When looking for the perfect blend of an e-bike that can take on both hills and beaches, look no further. With this RATTAN model, all the terrain will be covered with its amazing riding experience!
2. Best for Construction: ECOTRIC Electric Powerful Bicycle
The ECOTRIC bike is a sleek, high-performance electric fat tire bike that can take you wherever the road takes your fancy. It has been specifically designed for those moments when hills are steep, or snow may be present on mountain passes.
Speed
ECOTRIC bike can go up to 32KM/H (20 mph). It is powered by a battery that lasts for over 19 miles. The bicycle weighs 58 LBS and can carry 260Lbs and its weight when travelling at 20MPH on flat terrain. Also, you can ride with pedal assistance or 9-speed gears if you need it more leisurely paced but still fast enough!
500-Watt Brushless Motor
Tired of chugging along on your old bike? ECOTRIC Electric Bike provides a powerful 500-Watt brushless rear motor, allowing it to reach speeds of up 23 MPH.
The 36V Lithium Cell comes with a smart lithium battery charger that charges in just 3 hours! With its strong power output and durable design, this electric bicycle will have you zipping around any terrain like never before.
Ergonomic Construction
ECOTRIC Electric bikes are designed to make your ride as comfortable and safe as possible. The company pays close attention to every detail. The ergonomic handlebars ensure a natural posture while cycling or pedaling with ease so you can focus on what's important.
This best electric bike for riding on the sand features durable aluminum construction and powerful disk brakes that make it easy to control. For those who like their mountain biking even more thrilling, there's an adjustable suspension fork for a better experience.
Specification
Wheel: 26 Inches
Suspension: Rear
Type: Fat Tire
Color: Black/Orange
Tire width: 4.0 inch
Material: Alloy Frame
Weight: 58 Pounds
Summary
The E-Bike for all terrains! With a durable aluminum frame and powerful battery, the ECOTRIC bike will take you anywhere with its easy-to-use interface. You can ride your style on gravel roads, snow, or while commuting to work in power mode, which has a constant speed control feature.
3. Most Versatile: VELOWAVE Electric Bike
This bike is a great choice if you need an electric mountain biking machine to take on some rough terrain. It can handle snow and rain with its durable aluminum frame while also offering Cruise Control for constant speed when commuting or cruising through town!
Motor
VELOWAVE bikes are for people who want to go fast. With the 750W high-speed BAFANG geared motor, these electric bicycles can reach speeds up to 25mph and provide strong power!
Removable Battery
They come equipped with a 48V/16AH lithium battery that provides coverage of 25-40+ miles on one full charge. And it is removable, so you don't need special outlets at home or work for recharging purposes.
Speed & Range
With a top speed of 25 miles per hour, Velowave's bikes can go longer distances on pedal power than with the use of their electric throttle. However, due to weather conditions and rider weight, this range may decrease by 5 or more Miles beyond 40+ Miles.
Versatile Experience
The VELOWAVE Bike is a high-end mountain bike with all the bells and whistles. It has hydraulic disc brakes for added stopping power, an adjustable seat to make sure you're comfortable on longer rides. It's equipped with a multi-functional LCD.
Moreover, this best Electric Bikes for Sand has front and rear lights that can be turned up brighter because its brightness level is increased by 15%. Plus, tires will keep riders from skidding when riding over slippery surfaces, thanks partly because they contain anti-slipping traction at their core!
Specification
Wheel: 26 Inches
Suspension: Front
Type: Fat Tire
Color: Silver
Tire width: 4.0 inch
Material: Aluminum
Weight: 75 lbs.
Summary
The VELOWAVE Bike is a powerful yet elegant mountain electric bike. It's not the cheapest on our list, but it will be well-balanced and have just what you need for your needs in terms of features like motor, brakes, robust frame, etc.!
4. Most Capable Battery: SPEEDRID 26 inch Fat Tire Electric Bike
The newest SPEEDRID 26″ best electric fat bike for sand is the perfect mix of specialized 7-speed gearing and 500W 5 levels pedal assistance in addition to acceleration with the throttle to speed up 23mph.
With high-strength shock-absorbing forks and wide tires for comfort when riding down hills or trails that may challenge terrain in other bikes.
Sturdier Powerful Motor
48V 500W Motor provides more than enough power to get you where it is that your daily commute takes you. With speeds up 22 mph, this electric bike will not let anything stand in between its rider and the destination of choice!
Powerful Battery
The powerful 48V 10Ah battery on the Speedrid Electric Bike will provide up to 22 miles of fast-charge power. That way, you can ride your adventure or commute for work with ease! Charging time is also no problem when using this ebike. Because it's equipped for convenience in any situation–plug 'n play without worrying about being stolen while charging away from home.
LCD Display
Speedrid Electric Bike has a 5-speed display, so you can choose how fast to ride. It also shows the level of charge for your battery on this bike and updates once per minute! You will love that it is LCD and not on paper because it's easier for you to see all info at once!
Robust Construction
Speedrid Electric Bikes is a fast, affordable way for any road user to get around town. The electric bike features double-layer aluminum alloy wheel rims. And it is equipped with high-strength carbon steel front forks which absorb shock from potholes or cracks in the pavement.
At the same time, its 7-speed professional transmission system makes it easy on your pedals!
Specification
Wheel: 26 Inches
Suspension: Front/Rear
Type: Fat Tire
Color: Red
Tire width: 4 inch
Material: Aluminum
Weight: 59 lbs.
Summary
Well, we have the perfect solution for those who like exploring new places and seeing different type's terrain. Speedrid Electric Bikes can take you as far as needed with ease! The powerful brake with sturdy construction can take you anywhere!
5. Best for Assist Mode: MZZK 750W Brushless Motor Electric Mountain E-Bike
The MZZK BIKE is a sleek and high-performing electric bike with the ability to tackle steep hills, cut through the snow on your way down or up an incline of any kind. It comes equipped with a 500W motor, which can powerfully take you wherever you need to go!
Sturdy Construction
Imagine a bike that can handle 260 pounds and go up to 28 mph, all while being light enough for you or your lightweight child. That's the MZZK BIKE! Thanks to its wide tires, its 700C aluminum frame is strong like steel but gives off more traction when riding on wet roads.
Motor
The MZZK BIKE is a high-speed, long-range electric bike that can go up to 75 miles on one charge. It features an improved battery with 500 W of power and IP68 waterproofing for any weather condition!
Battery
The MZZK BIKE is a street-legal ebike, and the lithium battery makes it possible for you to ride all day. With 48V/12Ah capacity in mind plus 2A of smart charger power combined with an intuitive design that takes up less room than other bikes.
Versatile Assist Mode
The MZZK BIKE comes equipped with 6 assist modes. Pedal and full electricity are both available, which use the Shimano shifting system for any speed requirements that you may have at any time of day or night!
Adjustable Handlebar
The bike is a lot of fun and easy to ride. The handlebars can be adjusted by 120-132 cm, so no matter what your height or riding position, you'll have an ideal fit! Plus, the saddle also has an easily adjustable range from 93cm-117 cm, making this best Electric Bikes for Sand perfect.
Specification
Wheel: 28 Inches
Suspension: Front/Rear
Gear: 7
Tire width: 4 inch
Color: Comet-Brown
Material: Aluminum
Weight Capacity: 260 lbs.
Summary
The MZZK BIKE is a new addition to our range of bikes. It has the most mainstream components, meaning it's perfect for any purpose you may need! This makes it stand out from other similar models on offer- whether it's casual commuting or steep hill riding, this bike can do them all without fail.
6. Best Beach Cruiser: Cyrusher XF690 1000W Electric Bike
Cyrusher XF690 is the perfect choice for those who want a best ebike for soft sand that can go on paved roads and mountain trails or beach sand. This model features an easy-ride seat, strong frame design with 1000W motor power to give you all-day comfort and performance!
Heavy Duty Construction
The Cyrusher XF690 is a light and durable aluminum frame with the Oil Spring Shockproof Front Fork that can take on any terrain. Equipped with 26* 4″ wheels for traction, it's perfect for your next mountain adventure!
Excellent Brake
The Cyrusher XF690 can tackle any terrain with its 27 speed Shimano system and Front/Rear Disc Brakes. The bike is designed for heavy traffic or emergency scenarios so that you can stop on a dime!
Strong Mechanism
The Cyrusher XF690 is a 1000-watt mid-drive electric bike that can get you over 1500 watts of the peak. With an ideal 80 nm max torque and 1:5 reduction ratio, this sleek hybrid bike has everything needed for commuting or leisurely riding around town!
There are 48 volts of lithium-ion removable batteries that'll keep going strong even when wet, thanks in part to waterproof construction.
Easy Control with LCD Info Display
The Cyrusher electric bike has a hydraulic disc brake system that you can control with ease. It also features an LCD monitor to show your riding statistics, including current mileage and temperature and others.
Moreover, it uses PAS control for maximum efficiency! It will also show when it's time to charge again by illuminating red lights on both fronts.
Specification
Wheel: 26 Inches
Suspension: Rear
Gear: 7
Tire width: 4 inch
Color: Yellow
Material: Aluminum
Weight: 74.96 lbs.
Summary
This powerful fat bike is the perfect option for those who need more than just a leisurely ride. The Cyrusher XF690 offers 1000 watts of power, meaning you can take on any hill or terrain with ease!
Factors to Consider When Buying an Electric Bike for Sand
It isn't easy to choose the right electric bike for your desired purpose among hundreds of electric bikes available in the market. We have compiled several crucial features for you to consider before choosing an electric bike for sand.
Please give it a read to get the most out of your electric bike while riding on the beach.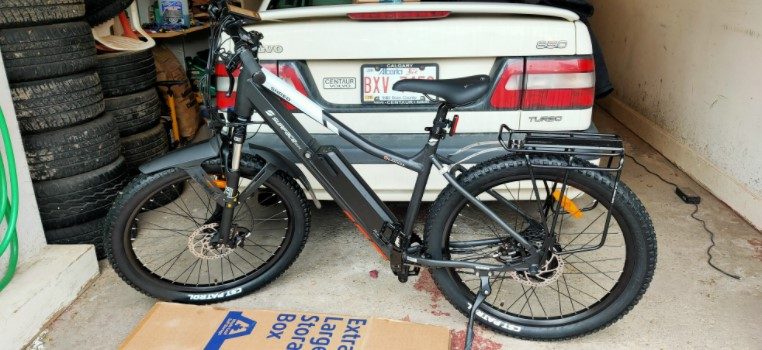 Fat Tires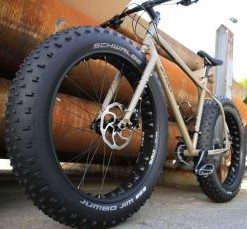 Depending on the motor power, electric bikes come with different sized tires. Low-powered electric bikes usually have narrow tires. These tires aren't suitable for riding on the sand. While riding, narrow tires can sink into the sand if it is soft.
Fat tires, 3 to 4 inches, to be specific, provide better traction while riding on the loose ground like sand. Though narrow tires can be replaced with fat tires, it is better to choose an electric bike already fitted with fat tires to avoid the hassle afterward.
Powerful Motor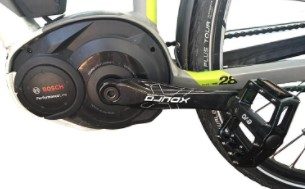 The electric motor should provide enough power to push your bike through sand. Though people often go for low-powered electric bikes to ride on the beach sand, it isn't a good idea.
In such bikes, you need to use pedal power almost all the time. But powerful electric bikes, something like 500W or 750W, will allow you to have a more convenient ride regardless of the terrain.
Wide Fenders
When riding on the beach, sand can easily enter into the drivetrain or gears. This will affect your riding and harm the bike in the long run. If fenders are short and uplifted, sand, dirt, or debris can even enter your eyes while riding fast.
A good wide fender is a must-have if you plan to ride on the sand with your electric bike. Such a fender will protect yourself and the bike from catching plenty of sands after the ride.
Size and Weight
Electric bikes are usually heavier than regular bikes. As a result, electric bikes will tend more to sink into the sand. And powerful electric bikes are more likely to be heavier.
So, you should try to take a lightweight electric bike while not compromising the power level.
Battery Manufacturer
The battery of an electric bike is probably the most crucial part. Checking the battery manufacturer is important because the overall performance of the battery depends on the build quality.
Renowned brands build excellent batteries that give greater charge cycles. It means you can use the battery for a longer period if it comes from a good manufacturer.
Range
The range of an electric bike can vary depending on several conditions. Factors like your weight, the terrain you are riding on, etc., can affect the range. As the electric motor needs to push itself towards the limit while riding on the sand, you might have a shorter range than expected.
To overcome this, choose an electric bike that gives a better range with powerful batteries. It will ensure your electric bike doesn't stop giving power while you are out on the beach for a few hours.
Water-resistant Components
When riding an electric bike on the sand, you might get splashed with incoming tides. Those splashes can damage your bike's electric motor and other components like the LCD or the battery.
Choose an electric bike where these components are splash resistant.
Frequently Asked Questions
Let's get to know the answers to some frequently asked questions about electric bikes. We hope these answers enlighten you.
Are e-bikes for sand worth it?
Yes, electric bikes for sand can be a good way of exploring your neighbourhood beach. You get a powerful motor, long-lasting battery, pedal-assist, LCD, and a lot more in an electric bike to have a comfortable ride on the sand.
How fast does a 48V 1000W electric bike go on sand?
Under standard conditions, a 48V 1000w electric bike can go up to 35 miles per hour. But this value can change depending on how much you weigh and the terrain under the bike.
A 48V 1000w electric bike will go up to 25 miles per hour on the sand.
Are fat tire electric bikes better for riding on sand?
Yes, of course. Fat tires give better traction and shock absorption. As a result, you get a safe and comfortable ride on the sand. Fat tire is a must in electric bikes for sand.
Do you burn calories riding an electric bike on sand?
Yes, you can burn up to 390 Kcal per hour while riding an electric bike on the sand. Though the amount is 24% less than what you burn while regular biking, at least you burn some calories to keep yourself in shape.
Are there any risks to riding an electric bike on the sand?
Though there aren't many risks to riding an electric bike on the sand, you should care about sensitive components. Otherwise, they can be damaged with sand, debris, or splashes of salty water.
Final Thoughts
Letting yourself flow with the pace of your electric bike seems fun. But problems arise when you don't ride on smooth roads. Going through beach sand can be a struggling time if you don't have the right electric bike.
In our opinion, R RATTAN 750W Electric Bike is one of the best electric bikes for sand, if not the best. Everything on this bike is suitable for having a day out on the beach and cruising through the sand with confidence, from a powerful motor to wide tires.