Affiliate Disclosure: As an Amazon Associate I earn from qualifying purchases.
Do you get your wrist, elbow, neck, or crotch hurt every time you ride your ebike? Chances are, you're not riding an ebike with proper sizes. And these are the most common problems for tall riders.
The only solution to all these issues is changing the bike with a new one that fits your inseam and body structure. As most brands want to catch the average-size riders, finding a well-built electric bike for tall riders isn't easy.
Thankfully, we have a team that knows what to look for and how to do that efficiently. Let's review the top electric bike models from renowned brands to help you choose the best electric bike for tall riders.
Can Tall People Ride an Electric Bike?
Well, there is no doubt that tall people can ride an electric bike. But a common reason behind tall people not feeling comfortable on electric bikes is simply the wrong choice of bike.
Things like wheel size, frame size, seat height, etc., affect the riding experience for tall people. Most manufacturers make electric bikes for people with average height. Riding those bikes can lead to muscle cramps or even joint pain for tall people.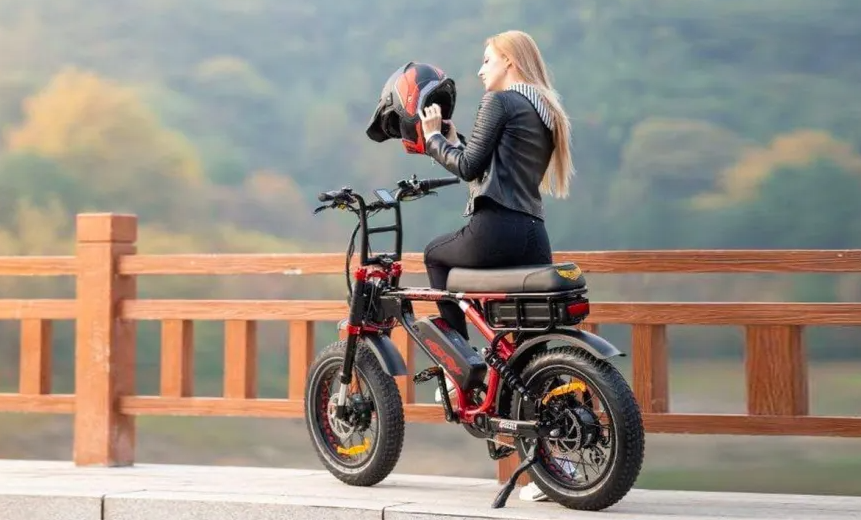 So, you need to choose an electric bike that is made for your height. With a larger frame and wheel size, the seat height should also be adjustable so that you can ride with comfort.
Taking the right measurement of yourself is also crucial before you get an electric bike. It will ensure you can sit comfortably on the bike without crouching or leaning too much.
How to Measure Yourself for the Correct Electric Bike Size?
Some people might think that only measuring the height of a rider is enough for getting the right bike. But this isn't completely true. You also need to measure your inseam length separately to have a proper fit.
Inseam refers to the length between the ground and your crotch. As your crotch touches the bike seat, ensure your legs are upright when you ride the bike.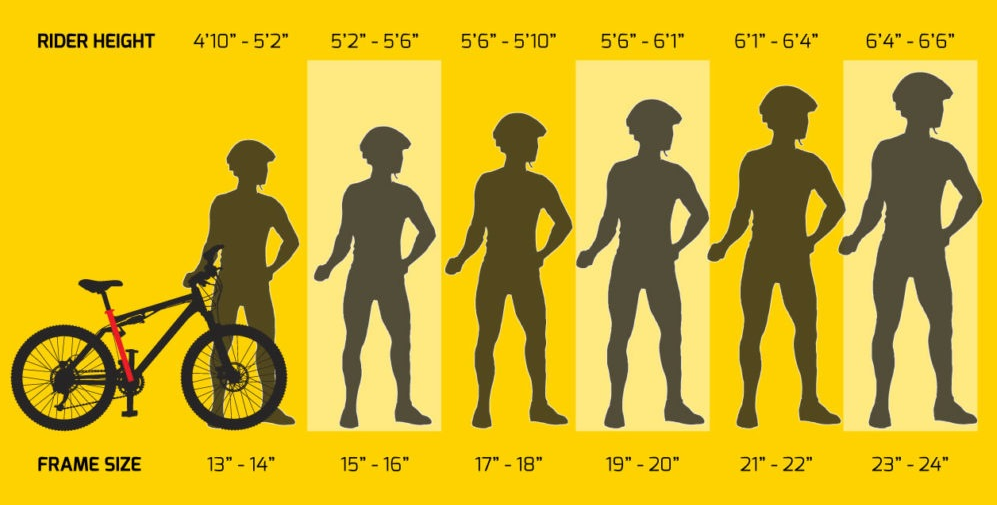 Here is how you can measure yourself to get the right electric bike.
Stand upright and keep your feet a foot apart to each other.
Measure the length between the ground and your crotch (you can ask a friend to do that).
That's your inseam length. Now multiply your inseam by685 to determine the e-bike frame size.
If your height is more than 6 ft, electric bikes with a frame size of 23-25 inches should be comfortable enough for you.
What Are the Best Electric Bike for Tall Riders?
Compensation Chart:
8 Best Electric Bike for Tall Riders 2022
The bikes we've reviewed below will be very comfortable to ride for tall riders. Let's take a closer look at their features and benefits.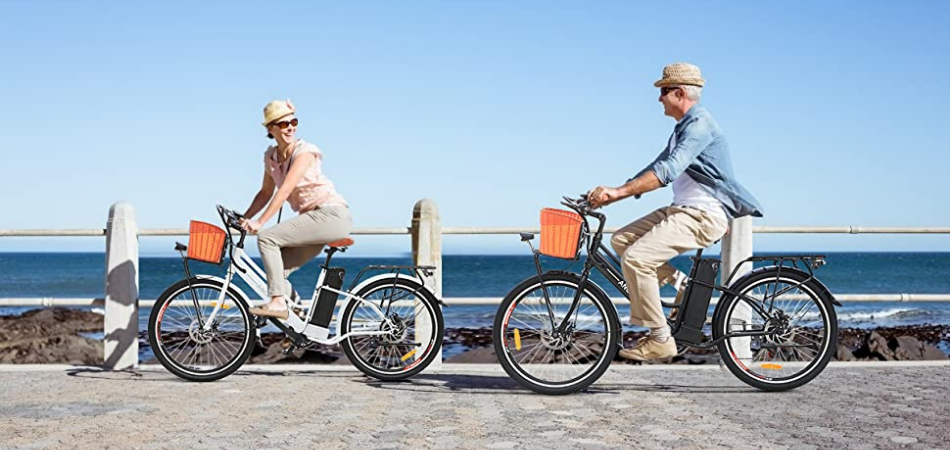 1. Editor's Choice: HILAND Rockshark Electric Mountain Bike
Hiland's ROCKSHARK mountain bike is a great choice especially if you are a tall rider. It has all of your transportation necessities like an electric pedal assist system so that cycling isn't just for exercise or sightseeing. This rugged transporter will make cruising around town easier too.
The bike features a frame and fork made out of strong aluminum. Aluminum is flexible and lightweight, yet extremely durable. So, you can ride up steep hills without difficulty. Besides, this e-bike can ride smoothly without issue, thanks in part to its efficient gear system.
Its 350W high-speed brushless motor is designed to provide more power than you'll ever need on roads. You can also go for a smooth and comfortable ride on any terrain. With 3 power levels, you'll be able to tackle any hill with ease and get more than enough speed on those downhill sections!
Whether you're riding through the rain or on dirt roads, your ROCKSHARK will get you there fast! The bike is water-resistant and dust proof. So, even if things do turn mucky, no worries here.
Plus, its LED backlight makes dark evenings easier to navigate by giving off a bright light when needed the most.
In addition, this powerful machine comes with a removable battery, so you can take it on your next adventure without worrying about wires or outlets! You can just swap out and charge or insert another. On the bright side, just one charge will take you anywhere from 30-50 miles.
Moreover, the 21-speed Shimano gear shifter lets you change gears with ease, which makes for a smooth ride no matter where your destination may be. It also comes with disc brakes that ensures smooth braking in any situation.
Technical Details
Wheel: 26 Inches
Suspension: Rear, Front, Dual
Frame: Aluminum
Brake: Disc
Motor: 350W
Battery: Lithium 36V/10.4Ah
Max Speed: 21 mph
Final Thoughts
If you're looking for a versatile bike that can go both on and off-road trips or take to work, the ROCKSHARK electric mountain bike is the best electric bike for tall riders. It has an excellent range of power that allows it to navigate tough terrain and get up hills easier than other bikes.
2. Most Versatile: VIVI 350W Electric Cruiser Bike
The 26″ VIVI Electric Bike is manufactured with a lightweight and robust carbon steel frame that can withstand the test of time. Its double-layer aluminum alloy wheels provide greater durability as well as a faster ride with less drag.
VIVI lets you get on and off your bike effortlessly with its step-through design. Plus, the wide swept-back handlebars provide you a natural, comfortable riding position, especially for long rides!
Moreover, the high-speed brushless 350 watt motor on board offers a 20 mph top speed for exhilarating rides. With the ability to smoothly adapt to any terrain, you'll be enjoying your ride when it's time to hit some trails!
This electric bike has a 36V 8AH battery that supports 22-25 miles of riding distance from one charge. And you can charge the removable battery on or off the bike. Besides, the fast charging only needs 4-6 hours to get 0 to 100%.
It comes with front and rear disc brakes for reliable, all-weather stopping power, which means you can ride in rain or shine! Plus, its 7-speed transmission system ensures no matter what pace suits YOU best (touring!), this baby will always have enough torque on tap.
Take a leisurely ride on the VIVI Electric Bike with its comfortable seat and wide handlebars, which also include fenders for smooth riding in inclement weather. Choose between three speeds depending upon your needs! With its LED smart meter button, you can choose your desired speed mode at ease!
Technical Details
Wheel: 26 Inches
Suspension: Rear, Front
Frame: Aluminum
Speed: 7
Motor: 350W
Battery: Lithium 36V 8AH
Max Speed: 20 mph
Final Thoughts
VIVI Electric Bike is a great option for those who want to take their leisurely ride up a notch. Whether you want an easy and comfortable way to get around town or just need something powerful for uphill rides, this extremely versatile e-bike has got you covered!
3. Best for Heavy Rider: ECOTRIC Electric Bike
The ECOTRIC Electric Bike is a powerful and cost-effective option when it comes to choosing the best electric bike for tall guys. With a 500W powerful brushless motor, it can get you to your desired destination fast at 20 MPH speed! With its shock absorption setup and solid tires, the roads will be buttery smooth.
Its 36V 12.5AH removable lithium battery allows you to take the battery out and recharge at home or work! The included charger supports both 110 and 220 volts, making it perfect for charging your bike battery in any country.
This is a wonderful bike that can be used with both pedal power and motorized assistance. With an average charging time of 6 to 8 hours, it's perfect if you want freedom from your house with only one single trip outdoors!
With the Shimano 7-Speed Rear Derailleur, you can take on any terrain with ease. It has a wide range of gears that making it an excellent choice for casual riders! You can avoid spending time putting it together.
Plus, with all of their handy tools already assembled and waiting for assembly right where they need to go; there's no chance of needing anything else!
This is one of the best folding e-bike for tall riders that can carry up to 265 lbs or 120 kgs. Folding down its aluminum alloy frame, this electric bike has a fixed front suspension fork with adjustable backrests for optimal comfort while riding.
The bike also offers you a perfect way to do some exercise and enjoy the scenery at your own pace. It comes with pedal-assisted modes if you're already tired, and want more distance covered before turning in for an hour of rest. However, it also includes throttle functions so that those who prefer not pedaling can use this instead!
Technical Details
Wheel: 26 Inches
Suspension: Front
Frame: Aluminum
Speed: 7
Motor: 500W
Battery: 36V/12.5AH
Max Speed: 20 mph
Final Thoughts
The ECOTRIC Electric Mountain Bike is suitable for people with big builds who want to take their riding seriously. With a heavy, high-quality frame and powerful motor that assists up getting hills or cruisers alike; this electric bike will get you anywhere!
4. Best for City Rider: Heybike Cityscape 350W Electric Cruiser Bike
The Heybike Cityscape is the perfect way to get around town if you're looking for an environment friendly alternative. With a 36V 10Ah battery, it allows riders travel up to 40 miles per charge while a 350w rear-drive motor provides reliable support.
This bike will have your feet off the ground in no time with 20 mph top speed, let alone its pedal-assist technology. With a step-through design and wide swept-back handlebars, the Cityscape is an ideal riding companion. It has all the benefits that you would want from your daily commuter without any additional hassle or discomfort!
The bike is equipped with 26″ puncture-resistant tires. It's got a 7 speed Shimano drivetrain for optimal pedaling efficiency. Dual disc brakes will stop you instantly on any terrain (including steep hills). Also, it has a headlight in the front & LED lights in the back which are completely waterproof even when it rains!
When you're looking to go on an exciting adventure without breaking a sweat, this electric bike has got your back. This bike can be used in three different modes to ease up your riding experience.
This is a pre-assembled bike which means you don't have to spend time assembling it or learning how to assemble! In addition, the inbuilt back rack may be used to connect saddlebags, platforms, or carriers, allowing you to ride with anything you need.
Heybike Cityscape is a stylish electric bike that will make you feel like royalty with its luxurious saddle and swept-back handlebars. This low step frame has been designed to provide tall riders the ultimate comfort while cycling through busy city streets or country paths!
Technical Details
Wheel: 26 Inches
Suspension: Front
Frame: Aluminum
Speed: 7
Motor: 350W
Battery: 36V, 10Ah
Max Speed: 19 mph
Final Thoughts
The Cityscape is a hybrid electric bike that has the benefits of a step-thru, comfortable ebike. It's perfect for commuting and getting around! If you need to commute more efficiently, don't hesitate to check out this awesome bike.
5. Best Waterproof: PASELEC Electric Mountain Bike
PASELEC's new GS9 electric bike is a high-quality machine that was designed with the utmost care and attention to detail. It comes equipped with 27.5″ wheels, a 13-ah battery, a 100 mm fork at the front as well as 40 mm travel on its rear suspension system, all integrated seamlessly into one tough frame!
With IP5 waterproofing standards (fully closed) this sleek bike will have you commute confidently through any weather condition without worrying about getting the motor or the battery wet.
Furthermore, this electric bike will make your commute to work a breeze! With its powerful 500w motor and agile handling, even the most technical terrain can be tackled with ease. Plus, it has an excellent model for rough terrains that makes sure you maintain momentum as well so there's no slowing down on steep hills or hairpin turns.
It has an improved frame that is comparable to the comfort and adaptability of mountain bikes. The upgraded frame and 27-inch tires provide unparalleled comfort as if you were riding on your favorite mountain bike right now! You also get Front Lockout or Rear AIRE saddle suspension to keep things smooth sailing through town.
PASELEC's electric bikes are more than just a way to get from point A to B; they're works of art! The slim silhouette and distinctive frame shape on the GS9 PRO make it stand out as one in particular. Its round shapes flow smoothly into each other down the middle or around curves like an elegant ribbon.
The Zoom Hydraulic Disc Brake system will stop any time that YOU want it too! Plus, this bad boy has dual piston calipers with adjustable levers which means they're more responsive and safer than ever before.
Technical Details
Wheel: 27.5 Inches
Suspension: Dual
Frame: Aluminum
Speed: 8
Motor: 500W
Battery: 48V 13AH
Brake: Disk
Max Speed: 25-28mph
Final Thoughts
PASELEC GS9 electric bike is a high-quality, sleek and stylish model. This company put the utmost care into designing this bike with 27.5" wheels for increased stability, a 13ah battery that can last for a very long time.
6. Most Lightweight: ANCHEER 26″ Electric Mountain Bike
ANCHEER Electric Bike is a very lightweight yet robust ride that can be used for climbing. It features a 21-speed transmission system and mechanical front & rear disc brakes to give you control while scaling steep hills with ease! The aluminum frame makes this bad boy durable enough to take any beating our local trails dish out.
This is a high-performance electric bike that's suited for various terrains, including trails and city streets. It has 26-inch alloy wheels with magnesium incorporated and anti-slip thick tires, making it ideal for navigating rough terrain.
The increased hill-climbing power lets you reach greater ranges of terrain while maintaining control when taking corners or going up steep hillsides without losing momentum.
In addition, this bike is a great way to get around town. It's equipped with 3 modes: e-bikes, assisted bicycles and normal bikes! With the LED button on your handlebars, you can switch between each mode easily using just one hand while riding at high speeds, down hills or going up steep gradients.
This electric bike is a great choice for adventure seekers and casual cyclists alike, as it offers the perfect balance of speed and comfort on your rides. Plus, the 36V 8AH lithium-ion battery can push the bike up to 15-17 miles at top speed while also providing steady acceleration with its 250W motor!
ANCHEER's full suspension mountain bikes are designed to take the knocks that would otherwise hit riders' bodies and send them flying off their bikes. This can help reduce fatigue, which in turn lets you ride faster for longer with greater comfort!
This electric bike folds up. When you're going on a family road trip or going camping, its frame folds up small enough to fit in the trunk of your vehicle. Because of its small size and ease of transport, it can be taken just about everywhere.
Technical Details
Wheel: 26 Inches
Suspension: Dual
Frame: Aluminum
Speed: 21
Motor: 250W
Battery: 36V 8AH
Brake: Disk
Max Speed: 15-17 mph
Final Thoughts
ANCHEER Electric Bike is easy to just get on and go. These ultra-light, 6-spoke combined wheels with wide slip resistant tires allow you to travel on any surface without fear of being stranded due to slick conditions.
7. Best for Safe Ride: ECOTRIC 350W Motor Electric Bike
The ECOTRIC bike has great performance, and it can be used for daily travel as well as relaxing. This city-centric ebike features an external gear shaft, which makes the ride more diverse even if you are taking on hilly areas or mountains with steep slopes.
This electric bike is a practical and environmentally-conscious way to commute. It features a 36V 12.5AH removable lithium battery, allowing you to bring the power pack to home or office for recharging! Approximately 6-8 hours of charge will give about 18-20 miles per trip.
The new ECOTRIC bike is the perfect way to go green and get some exercise! With a max speed of 20 mph, this sleek ride can cover ground quickly. It has a brushless 350W rear motor as well as an LED Panel, on which you'll be able to see a lot of riding information.
This UL-certified electric bike is the perfect way to get around town. With its powerful battery, smooth-riding frame, and strong brakes, it will not let you down.
From the moment you take control of this bike, it will be safe for you. It is certified by an independent agency that tests and verifies quality control procedures for hundreds of other bikes across North America each year!
This one comes fully assembled with everything you need including one charger and user manual. With the 26″ frame and rear motor, this electric bike is a great way to ride in style.
With an outage braking system as well as mechanical ones on board, there's no need to worry about your trip being cut short by any power outages!
Technical Details
Wheel: 26 Inches
Suspension: Dual
Frame: Aluminum
Speed: 7
Motor: 350W
Battery: 36V 12.5AH
Brake: Disk
Max Speed: 18-20 mph
Final Thoughts
If daily commuting with safety is your main priority, consider buying this bike. It has an extremely large battery capacity, which makes it possible to ride for miles without needing a recharge. Additionally, the versatility of this bike allows you to ride it everywhere from the city to the hills.
8. Best for Construction: NAKTO 26″ 250W Cargo Electric Bicycle
The NAKTO electric bike is a high-quality and affordable way to commute. With its carbon steel frame, the front fork absorbs shocks from potholes or cracks in the pavement with ease while remaining comfortable for longer rides without pain at your seat cushions!
Additionally, it has the most affordable direct-to-consumer pricing in town. This means you can own one of these high-quality machines with confidence, knowing that they are coming directly from an American manufacturer for your riding pleasure!
This electric bike is a comfortable way to get around town or hilly terrains. You can stop on demand with this dual brake system. You can also add some more spice to your ride with these brakes.
The 6-speed transmission system makes riding simpler than ever before, allowing you to select the pace that best suits your requirements. You can even explore new places at night, thanks to the bright LED headlamp equipped with this bike.
It is equipped with a 36V lithium battery that can be removed and recharged. It features a 250W high-speed brushless motor to assist you on your journey up to 45 km per charge (30-55 miles).
This electric bike has two working modes: e-bike & assisted bicycle. You can choose the e-bike if you want to enjoy long travel, or use it as an exercise machine with its assistance setting! If that's not enough for your needs then twist on some pedal assist.
Plus, it has the fastest brushless motor on a wheel, which offers better control and power. And, the aluminum frame ensures durability while double-layer wheels provide you safety with powerful brakes at all times!
Technical Details
Wheel: 26 Inches
Suspension: rear and front
Frame: Aluminum
Speed: 6
Motor: 250W
Battery: 36V 10AH
Brake: Disk
Max Speed: 18-25 mph
Final Thoughts
The NAKTO electric bicycle is the best electric bike for tall riders who are looking to enjoy a fun ride even with overweight. This bike cruises up to 25-30 miles on a single charge and reaches top speeds of 20-25 MPH, so you can easily go out and explore your city or town without worrying about running out of battery power.
Criteria to Look for Before Buying an Electric Bike for Tall Riders
You can't expect the optimum comfort from an electric bike when you don't spend some time figuring out your needs before buying. We got some crucial factors you need to consider before choosing the right electric bike as a tall rider. Please pay attention!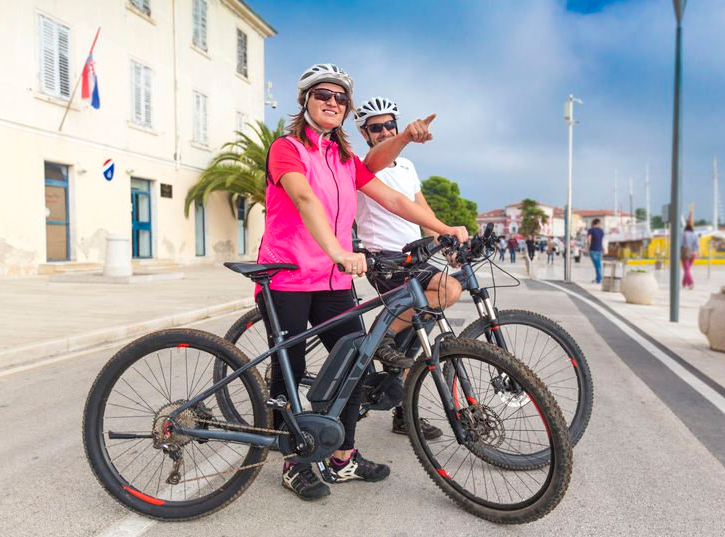 Frame Size
Frame size is the most important factor when choosing an electric bike for tall riders. The bigger the frame, the more comfortable the bike will be. But going for an unnecessarily large frame isn't a good option.
You need to measure yourself correctly to get the right frame size. We have already mentioned how you can measure yourself. It will be better to personally check the frame size before you buy.
Wheel Size
Another important factor is the wheel size of an electric bike. Smaller wheels make the overall height of an electric bike shorter, no matter what the frame size is. So, opt for a bike that has larger tires, something like 26 inches.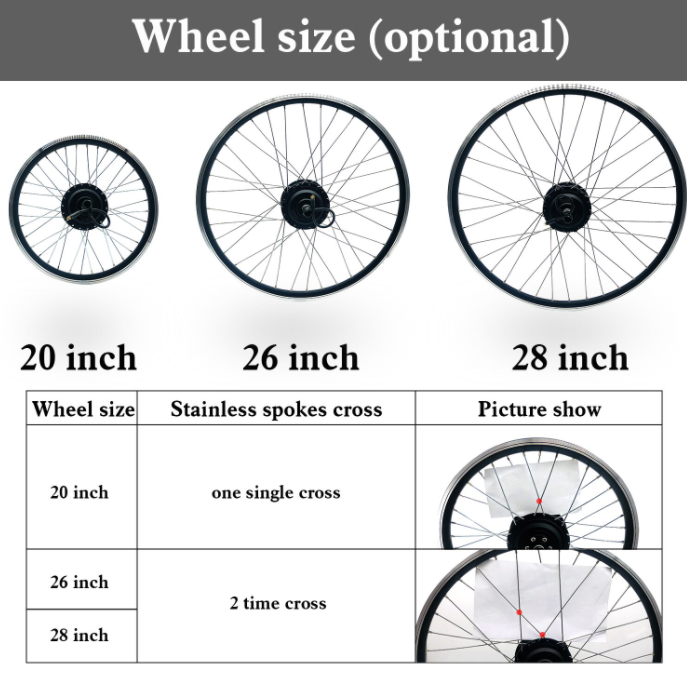 The width of the tire is also important. You need to go with fat tires as they have more surface area to give you a stable ride.
Seat Height
The inseam length you have measured is basically to determine where your bike seat will be. If the seat is too low or high, you will never get a comfortable ride. So, choosing the right seat height is important.
Another thing to remember here is the adjustability. Even though you choose the right frame and seat height, you may often need micro-adjustments to maximize your comfort. So, the seat post should be adjustable.
Handlebar Height
Handlebar height will define how you rest your arms on the handlebar. If the handlebar is too low, you might need to bend your elbow. It can lead to joint pain after riding for a long time.
So, the handlebar height should be adjustable. Some electric bikes come with tilt adjustment so that you can place the handlebar at a comfortable angle where your arms stay straight and parallel to your shoulder.
Motor Power
As tall riders are supposed to be heavier than short riders, they need an electric bike with adequate power to push them forward at a good speed. So, you need a powerful and durable motor that performs well in any terrain.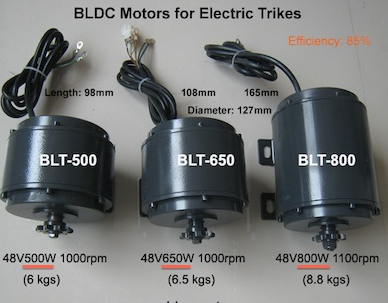 The placement of the motor is also important. Hub-drive motors are less versatile. Mid-drive motors will be suitable for tall riders as these motors can be used in different conditions.
Battery Power
The battery is one hell of an important component of an electric bike. A good battery will ensure you get the maximum range and charging cycle. So, spend some more on a good battery from a renowned manufacturer.
Lithium-ion batteries are common in electric bikes. Check the charging time of the battery. Consider having a spare battery so that you don't get stuck midway. Having a removable battery is a good option so that you can charge the battery at your convenience.
Frequently Asked Questions
We would like to explain several frequently asked questions to broaden your understanding. Stay focused.
Can you drive an electric bike without a license?
In most countries, electric bikes are considered regular bicycles with a motor. In some countries including the USA, electric bikes are divided into certain classes. These electric bikes up to class 3 (that are limited to 28 mph) don't require a driving license.
But you go over that, you will need a driving license, vehicle registration, insurance, etc. Your bike will then be considered a motorized vehicle.
Are tall people better at biking?
Not necessarily. The height of the rider has no direct relation to better performance. Taller people have more bone weight. Their center of mass is also higher than short riders.
As a result, it is difficult for tall riders to get into an aerodynamic position. So, there is no real advantage of tall riders in daily commutes or fun rides.
Can you ride an electric bike like a normal bike?
Electric bikes are nothing but normal bikes with an electric motor. So, when the motor is off or the battery has gone out of charge, you can ride an electric bike just like a normal bike. Pedal to push the bike forward.
Can a tall skinny person ride an electric bike?
There's absolutely no hindrance for tall, skinny people riding an electric bike. They just need to choose the right frame size that makes them comfortable while riding.
The bike should also be lightweight. Heavier bikes will be difficult to maneuver for skinny people. Mid-sized motors will be just fine for them.
Conclusion
A fun ride in the afternoon can cause wrist or back pain in the night if you don't have the right size electric bike. That's why we emphasized so much on having the right electric bike especially if you cross the 6 ft mark.
So, what's the best electric bike for tall riders in our opinion?
ROCKSHARK Electric Bike from HILAND comes with a 350W motor that is strong enough to push you at a maximum speed of 21 mph. It has a powerful removable battery that will cover a long range in one charge.
With its sleek, modern design and all intriguing features, ROCKSHARK is the best electric bike for tall riders.