Affiliate Disclosure: As an Amazon Associate I earn from qualifying purchases.
Are you confused between buying an e-bike or converting it? Well, many people find it easier to simply go to the shop and buy an electric bike. In contrast, some other people find converting the old one into an electric bike more appealing. To clear your confusion here, we will provide the differences between Electric Bike Vs Conversion Kit.
The main differences between these two are cost, customization, and features. A decent factory-made electric bike will cost much more than the conversion kit. We will dig into all the detailed differences between e-bikes and conversion kits in this article, so stay tuned.
Electric Bike Vs Conversion Kit: What Are the Differences?
The below differences are very common, and you can easily find exceptions to each of these. This section will provide an overview of the Electric Bike Vs Conversion Kit.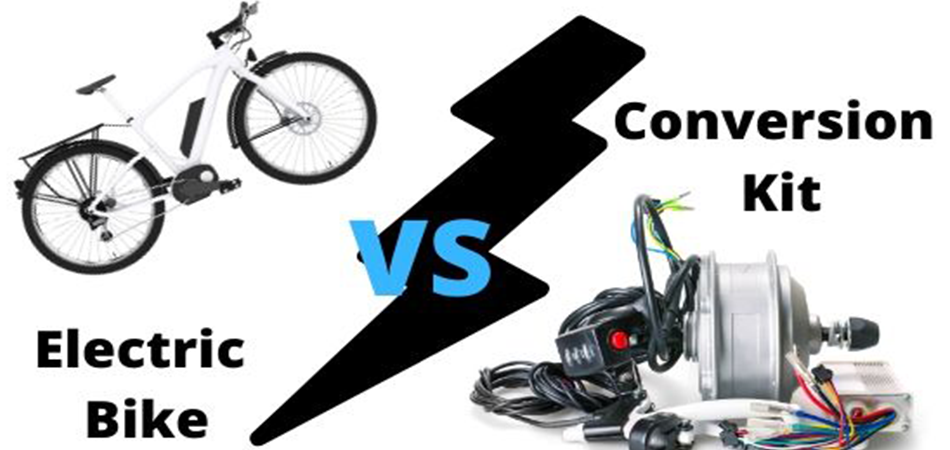 Why Use Electric Bikes?
Electric bikes usually look like two-wheelers with rear wheels. But the interesting part is they use a powerful motor and powerful battery option to operate. Now, you can ask, what about exercising? Well, you can only use the electric motor and start pedaling with pedal sensor to keep going.
Mark Kahn, founder, and CEO of Electric Extreme Machines, an e-bike retailer, provides some reasons for using e-bikes. He said e-bikes are easy to travel, a lighter carbon footprint, best for core strengthening, and safe riding. Electric road bike makes pedaling easier with their battery power.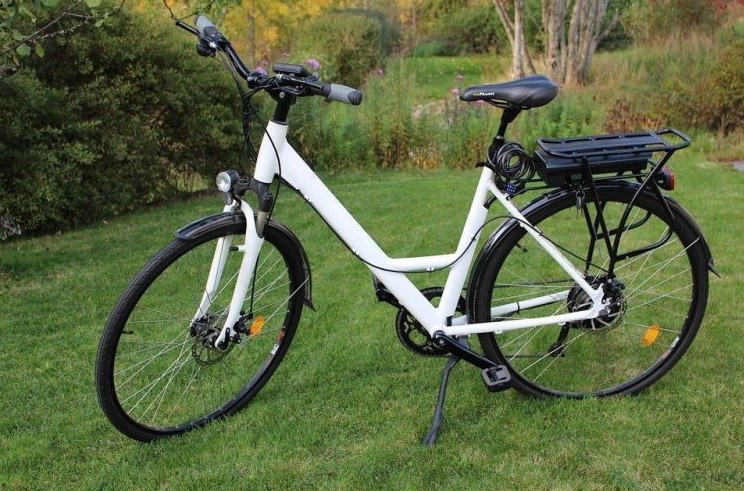 Moreover, factory-made bikes come with lots of features and additional accessories. E-bikes are becoming more accessible and affordable these days. So, if you don't want to make your hands dirty, then try out the factory-built bike at bike shop.
Why Use Conversion Kits?
For some people, money is a big fact and they can't afford buying a new electric bike. The great news is with the electric bike conversion mid-drive kit; they can easily make their old regular bike into an electric mountain bike. Conversion kits come with three major components like a battery, controller, and electric hub motor kit.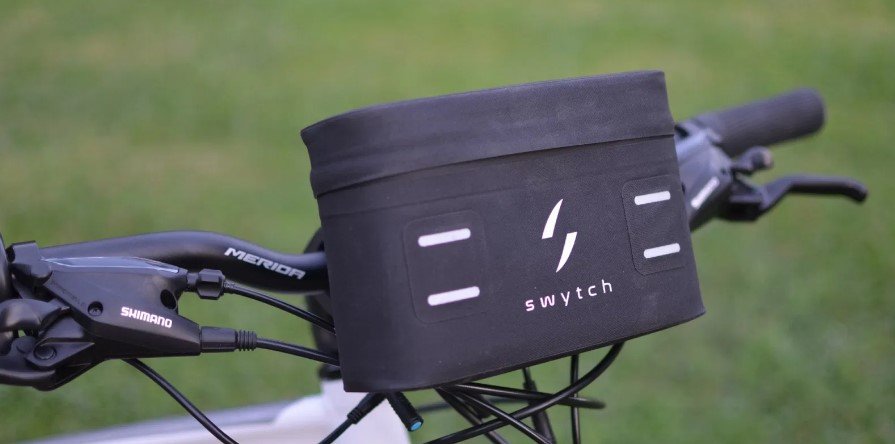 DIY enthusiasts can easily build their own e-bike with mid-drive conversion kits. Converted current bike allows you to upgrade the electric bike at any time with new accessories. To improve the bike's performance, you can add anything after installing the battery and electrical mid-drive system.
Cost:
Conversion kits are much more affordable than electric traditional bikes. Because you are only buying the components of electric bikes, not the whole bike. Generally, the cost of factory-made e-bikes starts from around $1500 and goes up. On the other side, conversion kits range between $600 to $1500.
Feature:
While purchasing an electric bike, you can choose among different featured models by considering your requirements. Basic features of e-bikes are motor, throttle, range, tires, braking system with disk brakes, folding, electronics, etc. that people consider.
With conversion kits, you can customize the normal bike to meet your needs. Multi-purpose-built electric bike with conversion kits makes the replacement process easier than the factory-made e-bike. For brushless motor placement, conversion kits come in three flavors like front-hub, rear hub, and a mid – drive motor for direct drive.
Electric Bike Vs Conversion Kit Pros
Here are the pros of buying a factory-made electric bike.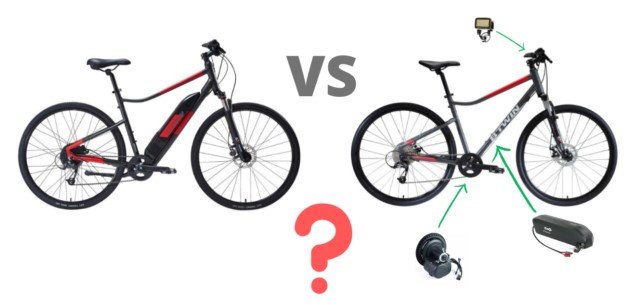 Pros of Factory-Made Electric Bike:
If you purchase the e-bike from a well-known brand, they will guarantee the best after-sales service with any issue.
Branded electric bikes are made from the ground-up.
Modern electric bike is a powerful bike that has integrated high-quality batteries and internal cable routing.
Compared to the converted bikes with e-bike kit, they look discreet and classy.
Factory-made electric bikes come in an integrated, efficient package.
Ready to ride just out of the store or box. The best part is they require minimal assembly.
You will have the options for choosing an electric bike kit with your favorite color, accessories, and features.
Pros of Conversion kits:
If you already have a decent conventional bike, you can easily convert it into a complete ebike.
Conversion kits will save a huge amount of money from buying a new bike.
It will allow you to build an ideal bike with your own accordance and preference. For example, if you want a commuter bike for long rides, you can use a longer battery range.
To swap the bike into a new bike, you can remove the conversion kits at any time.
It will make you more familiar and prepare for any further issues or required adjustments. As you put all these kits together, you can tackle all the common maintenance issues.
To build a trike, high-powered bike paths, tandem e-bikes, etc., the conversion kits are the best way to go.
You can upgrade the bike in the future if you want more power, speed, voltage, controller, etc.
Electric Bike Vs Conversion Kit Cons
Consider these cons before making a decision of purchasing an electric bike or conversion kit.
Cons of Factory-Made Electric Bike
The initial purchase price of a branded electric bike can be very high.
After expiring the warranty, the maintenance cost can be very expensive.
You may not upgrade the factory-based e-bikes while needing electric bike small capacity battery with long-range. Many brands of e-bikes don't come with this upgrade option.
If your bike isn't insured and with an accident, the parts replacement can be very costly with extra weight.
Any tinkering with the components of the bike will void the warranty.
Cons of Conversion Kits
Without having any mechanical competence, you will find it difficult to convert the bike yourself.
It comes with a lot of wiring that can provide an unfinished or DIY look to your bike.
Sometimes you may find some issue with the components of the conversion kits.
For more customization, it will require some special tools.
Final Opinion
Electric bikes have come a long way these days. After seeing the growing popularity almost, all bike manufacturers offer some sort of electrified option. Selecting any one between Electric Bike Vs Conversion Kit mostly depends on the cost and tendency of making things yourself.
We showed the basic variance between these two products. Whether you buy a new e-bike or convert the old one, both will provide more fun. Both options will give you faster speed, fun, convenience, and an effortless way of traveling. So, make your decision considering the above facts of this useful guide.