Affiliate Disclosure: As an Amazon Associate I earn from qualifying purchases.
Bike riders often face the challenges of where to leave their bikes and secure them from thieves. Paying attention to various bike locking options can help you secure your bike and worry less about thieves. However, you can secure or lock your bike with or without a rack. Bike racks are devices used in attaching bikes to stationary objects like trees or the ground for packing security.
This article centers on how to lock a bike without a rack. It also outlines the various stationary objects that you can lock your bike to for safety. You won't need to worry about your bike's parking security anymore after reading this piece carefully.
What Can You Lock A Bike To?
Since security is your main aim of locking your bike, you need to look for an immovable object. This will guarantee the safety of your bike at the parking spot until you are ready to carry it. However, the object also needs to be heavy, sturdy, and something you can easily attach your chain or lock to.  Below are some examples of such immovable rack-like objects.
Road signs posts
Trees
Light poles
Railings
Bolted down benches.
More so, with a ground or wall anchor, you can also lock your bike to a concrete wall or floor. This is the safest option for safeguarding your bike in a garage; so far, it's not visible from the outside.  It's also the most preferred option for residential houses, offices, or shopping malls.
There is a need for you to ensure that you don't block parking spots, businesses, driving, and walk areas while parking your bike.
However, as part of the security measure, don't park your bike in isolation. Always pack close to others. Parking where people are will help scare away thieve or make people catch them easily at any slightest attempt.
How To Lock A Bike Without A Rack?
If you've been wondering how to lock a bike without a rack, this section contains various alternative ways of doing it.
Use a bike lock or chain: This is what any rider should always carry along. It's not expensive to get a lock for e-bikes under $500. Since there is no guarantee of having a rack in all the parking places, you need to buy a bike lock. Sturdy and good-quality locks like D or U locks are convenient, effective, and reliable for your bike security. You can follow the steps below after getting one.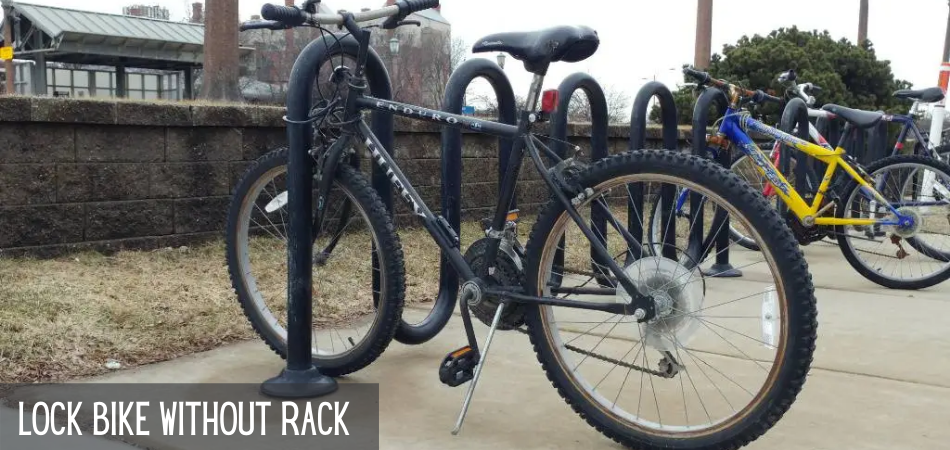 Move or park your bike close to an immovable object, a strong anchor rooted to the ground or wall. You can look for a pole etc., as stated earlier, remember to obey the road and other signs. Also, ensure that where you're packing is the appropriate parking slot, obey any law on chaining things there.
Loop the lock around the object and lock both together at a very close range. Hide the lock within the loop or bike to ensure that it's difficult to access. Don't place it close to the ground as the thief can smash it there and free the bike. Please don't leave it at the top; he can also smash the lock by turning and twisting the bike.
Always ensure that you secure both bike wheels, not the frame alone. Many people have lost their bikes to thieves because of this mistake. They think they have secured their bikes by threading the lock around one of the tires or frames. You only end up securing that particular wheel and not the entire bike if you are in this category.
A smart thief can still take the rest of the bike by simply removing the wheel within some minutes. Hence, the best and safest way is to tie both the tires and the frame to the immovable Tree, etc.
Also Read: How to Transport a Bike without a Rack?
Choose the Best Types of Bike Locks
We have mentioned bike locks a couple of times; let's look at the three main types that you can use. It's important to note that a good bike lock is your strongest and the first line of defense against robbers.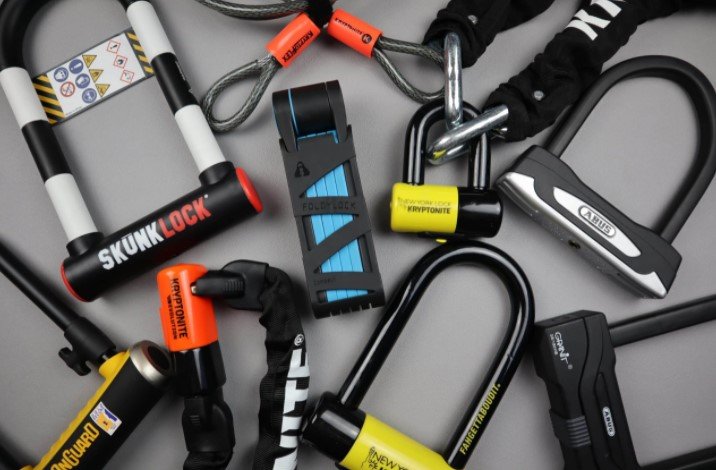 The chain locks are tough and big. They can be looped around any bike. The sight of their thick links and heavyweight padlocks is enough to discourage thieves.
The U or D lock consists of a solid metal shackle with a detachable crossbar. The crossbar is what you loop around your bike frame and an immovable object like a metal rail or signpost. While using this type of bike lock, you will also need a cable to loop through the bike wheels.
Lastly, the cable locks are lightweight, convenient, and easy to move about. They are good for low-crime areas, have no keys, and are less risky to use.
Remove the Front Wheel: It's easy to remove the wheels of most bikes but removing the front wheel is easier. This method entails placing the detached wheel to the bike frame and tying both together using a cable. The bike is then tied to an immovable object or ground. It's a good option when you aren't in haste.
Using a Heavy Chain: Securing your bike with a heavy, sturdy chain is a reliable option. You can decide to use chain the wheels separately to increase the firmness. Tie-down various components of the bike, including the seat, and loop through the saddle rails for absolute protection. This will make the bike immovable and secure. Thieves that target the parts of locked bikes find it difficult to maneuver this method.
Conclusion
Taking the necessary precaution to secure your belongings may seem hard and challenging, but it's worth it in the end. It will cost you more money to replace a stolen bike or any of the parts than securing it. Hence, this article on how to lock a bike without a rack suggests the best ways to secure your bike. It explains that every bike should have a lock or chain and recommends the D or U locks to be among the best.
Also, you should always loop your bike to an immovable object while parking it. Also, ensure that you make your bike immovable by securing the wheels with a lock or cable. More so, buying a heavy chain to chain all the components of your bike will secure it from thieves who target the parts.