Affiliate Disclosure: As an Amazon Associate I earn from qualifying purchases.
Cycling an e-bike is a recreation activity that combines pleasure, thrills, excitement, and fun with exercise. Just like every other sport, cycling can be fun, and it comes with health benefits that are important to humans.
Although cycling can be fun, it is a common experience for many elders to express concerns about health conditions such as arthritis, joint and knee problems, and the implication of cycling with such health problems. This concern often leads to questions like 'can someone with knee problems or Arthritis ride an e-bike?'
Can I Ride An E-Bike With Knee Problems Or Arthritis?
E-bikes are designed to reduce stress on pedaling, which makes cycling a good exercise for people with arthritis or other knee problems. Unlike working, running, jogging, or other forms of exercise that exert much pressure on your joints, someone with arthritis or other knee problems can cycle using an e-bike because it reduces the pressure and stress exerted on it.
Arthritis and knee problems are common health conditions that come with aging. Arthritis involves the swelling of any joint of the body, and it is characterized by swelling, stiffness, and pain of the joints; the pain starts gradually and evolves. Other knee problems include rheumatism, a broken bone, torn ligament, infection, and meniscal tear. Thank goodness that it does not affect the life span of the individual, and it can be managed. When it comes to managing Arthritis and knee problems, studies show that cycling is a great way to manage these health conditions.
What Are The Benefits Of Riding E-bike With arthritis Or Knee Problems?
Cycling has been proven to help manage Arthritis and knee pains, especially when using e-bikes for arthritis knee. However, cycling with an electric bicycle generally referred to as an e-bike proves to be more efficient than cycling with a non-motorized bike for the following reasons.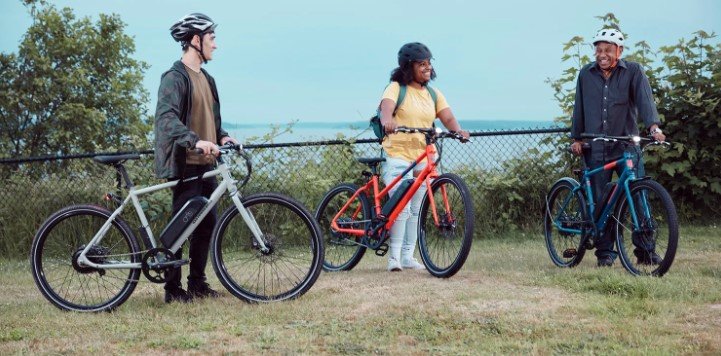 Reduced joint stress. An e-bike when compared to a non-motorized bicycle, uses a rechargeable propeller that saves you the stress and reduces the impact of pedaling on your joints, waist, hips, and feet; it lessens the stress on your joints.
Strengthening of the muscle. Using an e-bike moderate your level of pedaling which strengthens your thigh muscles, hamstrings, and glutes, and in turn, protects your joints.
An adjustable e-bike has three or more levels of pedal assist that helps you control your pace. A lower speed level helps to reduce the impact of pedaling on your legs and joint. However, it does not stop you from flying to the moon once in a while; cruising is allowed.
How To Choose An Electric Bike For Knee Problems Or Arthritis
Choosing a bike can be challenging, especially for an elder with arthritis or knee problems. However, as promised we have put together factors you can consider when choosing an e-bike for elders with these health conditions; this is to save you the stress and confusion involved in choosing an e-bike.
1. Nature of the health problem
Already we know that a knee problem affects the knees, but Arthritis can happen to your knees, hand, ankle, neck, feet, and multiple joints (rheumatoid arthritis). Hence, you consider the location of the pain to choose a suitable e-bike. The Electric Mountain Bike, PASELEC Bikes for Adults and Mongoose Malus Fat Tire Bike are prime examples you can consider.
2. Size and height of the e-bike
A moderate size e-bike with a low height is best for people with arthritis and knee problems because it makes it easier for them to climb and control the bike the way they want it. The size of the bike also aids posture and ensures that the body of the rider is positioned in such a way that is not detrimental to the rider.
3. Speed
A fast bike is not ideal for someone with a knee problem or arthritis. This is because speed makes it difficult to control the bicycle and its impact on the joint and knee can be dangerous. With an e-bike with different pedal assist, you can control your pace and lessen the impact of speed on your knees and joints.
4. Features of the e-bike
When choosing an e-bike, consider the battery life, tire size, and comfortability of the bike. A model with a flat tire, long battery life, and comfortable posture like most step-thru bikes is ideal for elders. You do not want to get stuck pedaling for a long time because of a battery with a short life. Flat tires also stabilize the movement of the bike when in motion, and comfortability should not be neglected because elders need to be comfortable to control the bike. Few examples of step-thru bikes include State Bicycle Co– The Azure, Co-op Cycles– CTY 1, and Norco–Scene 1.
Tips For Riding e-bike With Knee Problems Or Arthritis
When cycling using an e-bike, there are things you should do to enhance your cycling experience. They include: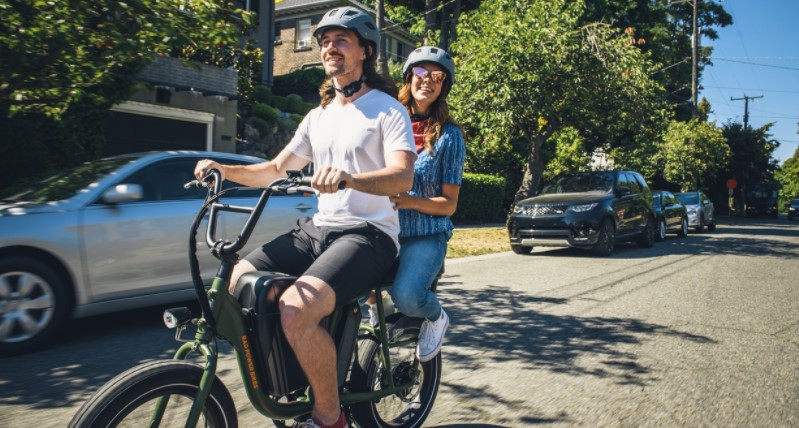 Warming up for few minutes before cycling enhances your experience. It stretches your arms and legs, loosens your back and hips, makes your joint efficient, and increases the anaerobic metabolism of your body.
Adjust the height of your seat to suit you comfortably. A seat height that is high or low can cause you more knee pain as it will cause you to bend your knee. Adjust your seat to an angle of 45° to the top stroke, such that your knee will not have to bend much.
A whole-body fitness workout energizes you and strengthens your core which in turn stabilizes your body when cycling. A strengthened core helps you to prevent and reduce pain, and at the same time, improve your joint movement.
Use medical elastic therapeutic tape to bend your knees or any location where you feel pain. The elasticity of the tape aids joint movement supports weak areas and helps to relieve pain.
When riding an e-bike, a comfortable posture is recommended because bad posture can cause more damage to your already aching joints and body parts. The recommended position for riding an e-bike includes keep your shoulder down, your elbow should be slightly bent, your back straight, and your slightly bent knee. This posture is difficult to achieve, however, it is the best for your health.
Your speed should be at a moderate level. Moderate speed helps you to control your bike, and maintain an effortless body motion when riding. The recommended speed for every cyclist is above 80vrevolutions per minute. You should neither be too slow nor too fast, as it affects your health negatively.
Frequently Asked Questions (FAQ)
Are e-bikes good for people with bad knees?
E-bikes are not just good for people with bad knees, they are perfect and the best for people with bad knees. With the perfect e-bike, a good posture, and good protective measures, you can enjoy cycling with less stress of pedaling which can be detrimental to your health.
Is walking or biking better for the knees?
Most people especially experts and health practitioners laud that biking is the best for the knees because it has lower impacts on your joints and knees. Cycling is an activity that does not require your feet to support your body weight, unlike walking which requires your feet to support your body weight.
Final Thoughts
It is no doubt that cycling has a lot of health benefits attached to it. From exercising your body to helping you relieve pain, strengthen your joints, knees, and muscles. We have provided answers to all your questions regarding cycling an e-bike as a person having knee problems or arthritis, especially the big question most people ask, 'can I ride an e-bike with knee problem or Arthritis'. With an e-bike, you are guaranteed to create and share sweet memories and exercise at the same time.