Affiliate Disclosure: As an Amazon Associate I earn from qualifying purchases.
If you have plans to buy an e-bike in California, you must follow certain laws & regulations.
California classifies bikes into three different categories – Class 1, Class 2, and Class 3. Laws governing the use of the different classes are similar but differ in special cases.
Basically, the laws govern the tracks and roads where these bikes can be ridden, the maximum speed at which they can go, and so on.
If you want to know more about electric bike laws in California, keep reading. This article discusses laws and policies that govern the use of electric bikes in California.
Key Facts:
The use of e-bikes is legal in California but also comes with some regulations.
Electronic bike laws in California classify electric bikes into 3. Class 1, class 2, and class 3.
Class 1 and Class 2 e-bikes can use tracks used by regular bicycles. Furthermore, they come with minimal regulations when compared to class 3 e-bikes.
Bike riders below the age of 18 must use a protective helmet while riding in California. For class 3 bikes, a helmet is compulsory for riders of all ages, including those above the age of 18.
E-bike owners or riders don't have to register their e-bikes or get a license before they can use their bikes on the roads.
In an accident between a bike and another vehicle, the rider has the right to demand compensation. The affected rider can also seek legal advice or backing from a proficient attorney.
Are E-Bikes Legal In California?
E-bikes are legal and can be used in California. However, it is considered illegal to ride e-bikes like you would normal human-powered bikes. Also, the use of e-bikes for persons under age 16 is considered illegal.
Electric bike laws in California have been put in place to regulate the use of e-bikes in the State. It is illegal to use an e-bike on certain trails reserved for normal bikes except permitted by local laws.
Also, you don't need a license or to register your e-bike before you can use it. Furthermore, your e-bike shouldn't go beyond 750 Watts.
Why Do You Need Legal Advice Before Buying An E-bike In California?
Recently, there has been an upsurge in California's number of bike enthusiasts. As a result, many cities have instituted laws that govern their operations and promote bike riders' safety and the general public. But sometimes, riders may flop these rules and risk sanctions.
Therefore, it's important to seek legal advice from a proficient attorney. Below are some of the benefits and importance of getting the services of a proficient legal attorney:
In the case of an accident where a bicycle rider sustains injuries or suffers massive damage, the attorney can help him get substantial compensation.
You may suffer dire consequences because you don't know your rights or the regulation that govern bike riders. So, you must have a proficient attorney educate you on the policies.
You also need the services of legal practitioners to advocate for you if you flaunt the rules or policies.
Electric Bike Laws In California – Rules, Regulations & Policies
California has laws installed to monitor and regulate e-bikes in the state. To give you a better understanding of the policies, you first have to understand the three categories in which the state classifies electric bikes. The three different categories are:
Class 1 electric bikes
Class 2 electric bikes
Class 3 electric bikes
California Electric Bike Policy According to Bike Classification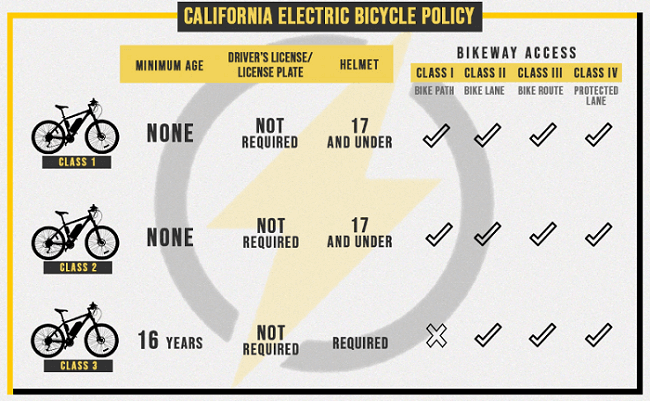 Class 1 Electric Bikes 
This is the first category of e-bikes. Class 1 e-bikes are electric bikes that are designed to run at the lowest speed. They come with pedals and can only start when you engage the pedal.
To boost speed, they come with a motor that accelerates the bike while the rider pedals. The motor will allow the bike to accelerate to a maximum speed of 20 miles per hour before it disengages. The rider now has to continue pedaling the bike to maintain the motion.
These bikes are allowed to ride on trails that are reserved for regular bikes. The California law also allows riders can also leave the bike trail to take a left turn, avoid a collision, pass another road user, or avoid cars making right turns. Furthermore, riders must always ride on the far right.
Class 2 Electric Bikes 
These bikes are somewhat similar to the first class. They also come with an electric motor, and in addition, they come assisted with a throttle. Also, they are not capable of traveling at high speeds.
Unlike the first class of bikes, the rider doesn't have to engage the pedal before the bike can start moving. Similarly, the motor disengages once the bike reaches 20 mph. These bikes, just as the class 1 bikes, are allowed with very minimal regulations and rules.
They are also allowed on pavements and bicycle trails where traditional manual bikes are allowed. Also, Class 2 bikes require the use of helmets for riders below the age of 17.
Class 3 Electric Bikes 
These bikes are equipped with a more powerful motor that allows them to run at a higher speed of 28 mph. They are also enabled with pedal-assist. The motors allow riders to move the bike with minimal effort applied to the pedal.
Unlike the previous classes that allow a maximum of 20 mph, Class 3 electric bikes have their motors disengage when they reach the 28 mph speed limit. This class of electric bikes is prohibited for use by persons under the age of 16. In addition, such riders must wear helmets while riding the bike.
Riders are not permitted to use these bikes on bicycle trails or paved tracks. If any riders must use class 3 electric bikes on paved tracks or bicycle trails, they must do so with permission from the local authorities. Furthermore, riders cannot ride someone else in the passenger's seat. Class 3 electric bikes are authorized for use on roadways.
E-bike Classification Chart
To give a more precise explanation of the three different classes of e-bikes, below is a comprehensive chart.
| | | | | | | | | |
| --- | --- | --- | --- | --- | --- | --- | --- | --- |
| Bike Class | Maximum speed | Driver's license | License plate | Helmet | Minimum age | Use on Bike trail | Pedal | Throttle |
| Class 1 | 20 mph | No | No | Under 18 | N/A | Yes | Yes | No |
| Class 2 | 20 mph | No | No | Under 18 | N/A | Yes | No | Yes |
| Class 3 | 28 mph | No | No | Under 21 | 16 | No | Yes | Yes |
How Does California Law Apply To E-Bikes?
Use of Helmets
Riders below or at the age of 18 must have a protective helmet on while riding e-bikes. If you're up to the legal age of 18, you can ride your class1 or class 2 e-bike without a helmet. However, you need to wear a helmet to ride a class 3 e-bike.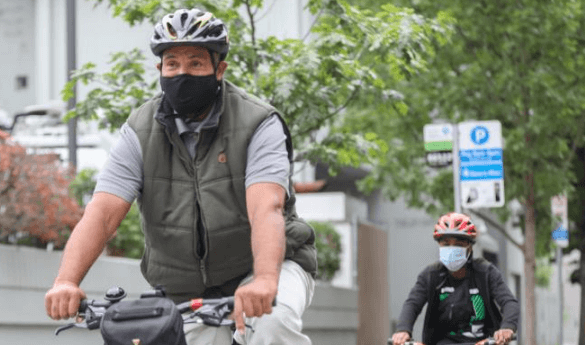 Also, electric bike laws in California have approved a helmet for bike riders. The generally recognized helmet authorized for use has a sticker from the state's Department of Transportation. This sticker serves as a seal that indicates that the helmet meets the basic standards for helmets.
Use of a license
California doesn't necessitate the need for a license or a number plate for e-bike riders. Also, you don't need to go through any registration procedures before using your e-bike. The catch, however, is that you need to obey all traffic rules and regulations that apply to regular bicycle riders.
Permitted trails
It is legal to use electric bikes on freeways or expressways. However, some roads have signs that prohibit the use of e-bikes. If you come across such roads, we recommend that you find an alternative route.
Furthermore, class 1 and class 2 bikes are allowed to use bicycle trails, hiking trails, horse trails, and tracks at recreational centers. Class 3 bikes are considered illegal for use on such paths, except the rider has permission from the local authorities. Another condition that validates class 3 electric bikes on such trails is if the trail is next to a roadway.
Have A Look: Electric Bike Laws In Michigan
Conclusion
It is legal to use electric bikes in California. However, the law in California recognizes electric bikes under three different classes and provides regulations according to the classes. So, you must seek the services of a proficient legal adviser. The adviser should give you proper education on the rules and regulations that control the use of e-bikes on the road.
Also, bicycle riders may get engaged in a crash with other vehicles. When this happens, your legal adviser can help you solicit compensation. Electric Bike Laws in California stipulate that e-bike riders mustn't go beyond 28 mph. Furthermore, the maximum wattage allowed for e-bikes in California is 750W.