Affiliate Disclosure: As an Amazon Associate I earn from qualifying purchases.
Ebikes have become much more popular in Florida in recent years. However, some people still fear riding ebikes because they are not sure of the rules and laws guiding the use of ebikes in Florida. In this article, you will learn about the electric bike laws in Florida.
Florida has a few laws that pertain to electric bicycles or e-bikes. These laws are in place to ensure that e-bikes are safe for use on the roads and that they do not create havoc for other drivers.
First off, you have to be 16 years old for you to operate an electric bike on Florida roads. However, you may ride on roadways and bicycle lanes with electric bikes equipped with a motor that assists as you ride. Also, it is recommended that all riders wear helmets no matter what the speed limit is.
Key Points:
You may ride on public roads, bike lanes, bicycle paths, and multi-use paths unless explicitly prohibited by local ordinances.
You have to be 16 years old to operate an electric bike on Florida roads.
It is illegal for anyone under 16 to ride a Class 3 electric bike. These are usually street-legal and have a maximum speed of 28 mph.
Laws and regulations change, so it's important to stay up-to-date.
Are Electric Bikes Street Legal In Florida?
Florida boasts of a fair law regarding electric bikes in the entire country. Here, electric bikes are legal on the road as long as they meet certain requirements.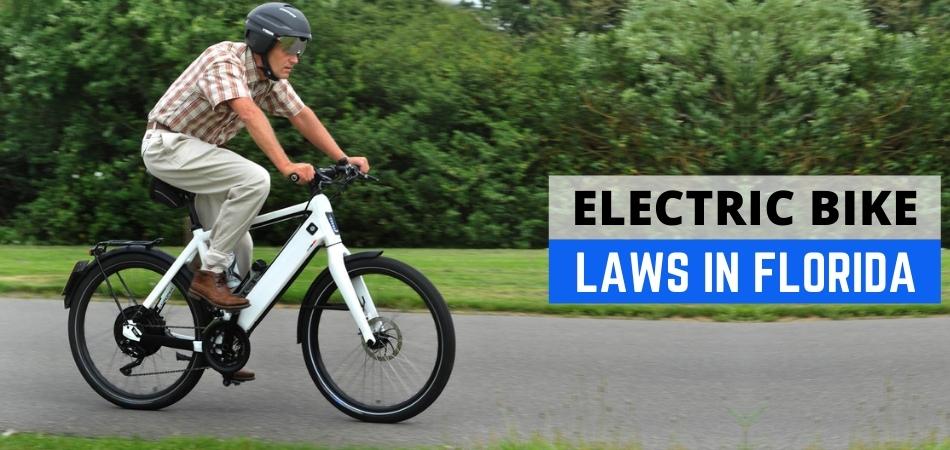 In Florida, electric bicycles are classified as "bicycles" rather than motorized vehicles or personal mobility devices. Therefore, any electric bicycle will be street legal in Florida as long as it complies with the definition of a bicycle under state law and local ordinances.
Most e-bike models are classified as "low-speed electric bicycles." However, the United States Department of Transportation has defined these as having a maximum speed of 20mph, and states can choose to implement their regulations beyond that.
Therefore, E-bikes with pedals that can propel the forward bike fall into this category. They may have a motor, but it can only be activated while you're pedaling or when the bike is traveling at less than 20mph.
According to Florida's regulations, e-bikes like these are treated just like regular bikes, and you can ride them on any road that allows regular bicycles. It is just mandatory that you wear a helmet if you want to ride the bike.
However, there are some exceptions. E-bikes with motors larger than 750W and speeds over 20mph are considered motor vehicles in Florida. To operate one of these e-bikes on public roads, you must have a motorcycle license and register your vehicle with the state.
Related Reading: Electric Bike Laws In Michigan
Are You Aware Of The 2023 Electric Bike Law In Florida?
You must be aware of the e-bike law in Florida if you ever want to ride in the state. Florida passed a law at the tail end of 2020 that allows electric bikes on trails and roads, as long as they don't go faster than 20mph.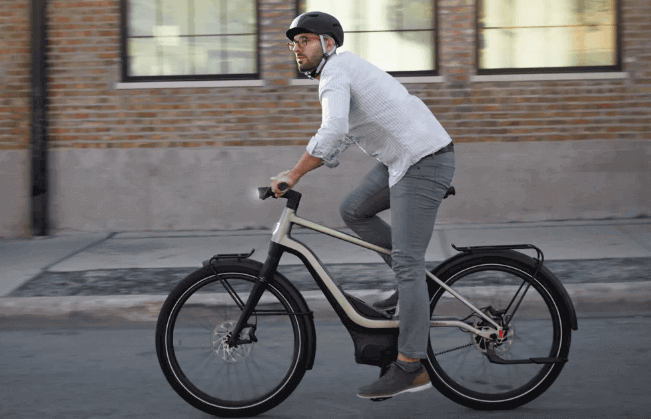 The law requires every e-bike rider in the state to wear a helmet, regardless of age.  Also, the law specifies that any motorized bike that goes faster than 20 miles per hour on level ground is considered a motorcycle and thus not subject to the law.
It means that it doesn't have to be registered with the state or have insurance, but it also means that the driver has to have a motorcycle license, which is entirely different.
The law was put in place because Florida has one of the highest rates of head injuries and fatalities, and e-bikes are a great way to get around without using gas. The law was established on the first day of the month of July 2020, and anyone caught violating it can be fined up to $50 to $500.
So, if you ride your e-bike through town, ensure you are familiar with the rules and law. Most importantly, always ride with your helmet.
Electric E-Bike User Agreements In Florida
The "Electric E-Bike User Agreements" is an agreement between you and the electric bike company. These agreements are the terms of your electric bike rental or usage. They tell you all that is allowed and what is not, what happens if something goes wrong with your rental, and how disputes are resolved between you and the electric bike company.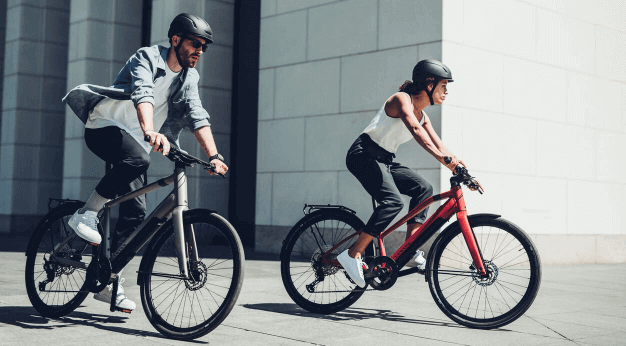 By signing up for an account with the company, you agree to these terms by accepting them as a legal agreement between you and the company and as a condition of your use of our service. You need to agree to the terms if you want to use their service.
These agreements are effective as of [month] [day], [year]. Also, it may be updated from time to time without prior notice to reflect changes in services or legal requirements.
The company will notify you of any important changes via email at least 30 days before the changes take effect. If you don't agree with the new agreements after they go into effect, you can choose to abort your service with them.
How Does Florida Law Apply To E-Bikes?
As e-bikes become more popular, you might be wondering whether you need to do anything to make sure your e-bike is legal. The good news is that e-bikes are legal to ride in Florida, but there are some things you should know when hitting the road with yours out on the road.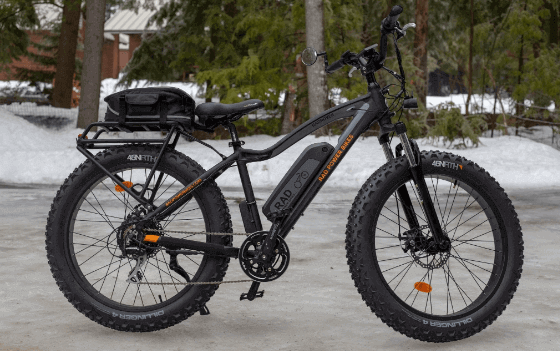 An e-bike is defined as a bicycle with a motor that provides assistance only when the rider is pedaling in Florida. E-bikes can be equipped with a throttle that allows the bike to move without pedaling, but this type is not considered an e-bike under Florida law and, therefore, cannot be operated on a public right-of-way (such as a road).
Also, E-bikes are considered vehicles under Florida law, so they must follow all bicycle laws, including the requirement that they have working brakes and equipment such as reflectors and lights if riding at night. They also may not be operated by anyone under 16 years old.
While e-bikes do have some differences from bicycles, they should still be treated with the same respect as traditional bikes when it comes to road safety. Remember that the road rules apply just as much to you as they do to any other vehicle.
FAQs of Electric Bike Laws in Florida
Here are some common questions we encounter regarding e-bikes and their place in the legal system.
Do I need a driver's license to operate an e-bike?
No, you do not need one to operate an e-bike in Florida.
Do I need insurance?
Although we don't recommend riding without insurance (or at least without some kind of coverage), there is no law requiring it in Florida.
Is it legal to use an e-bike on the road?
Typically, yes. However, your local government might have passed laws restricting their use on roads within the city limits or other areas. So always be up to date with your local government law before heading out with your bike.
Is it legal to use an e-bike on sidewalks?
Again, this depends on where you live. Florida has no laws preventing their use on sidewalks, but some local governments have passed ordinances banning them from sidewalks in certain areas (like downtown).
Conclusion
E-bikes are undoubtedly a way to get around town. They are environmentally friendly and inexpensive, but they're also extremely versatile! You can use one for daily commutes, get out into nature on a bike path, or travel longer distances on roads.
But before you hit the road with your e-bike, you should know how Florida law applies to them. In this post, we cover all about riding an E-Bike in Florida and the electric bike laws in Florida that you should know.