Affiliate Disclosure: As an Amazon Associate I earn from qualifying purchases.
The efficiency and convenience of electric bikes are the reasons behind their popularity among outdoor enthusiasts. Most states have now recognized and started to legalizing using e-bikes on city roads. Wondering what's the situation in New York?
The New York State electric bike laws encourage outdoor enthusiasts to use e-bikes and e-scooters on the city roads, effective April 2, 2020. The law allows you to ride bikes with electric assist on NY roads and some highways. However, you the law doesn't allow you to ride e-bikes on sidewalks, and you'll have to maintain a speed limit of 30 mph.
I wrote this article to provide insights into electric bike laws in New York State and other vital additional information. Take your time and read the guidelines to avoid breaking traffic rules regarding e-bikes.
Are E-bikes Considered A Motorized Vehicle In New York State?
Yes. The New York office of parks, recreational and historic preservation classifies e-bikes as motorized vehicles. The law allows these electric bikes to access motorized trails.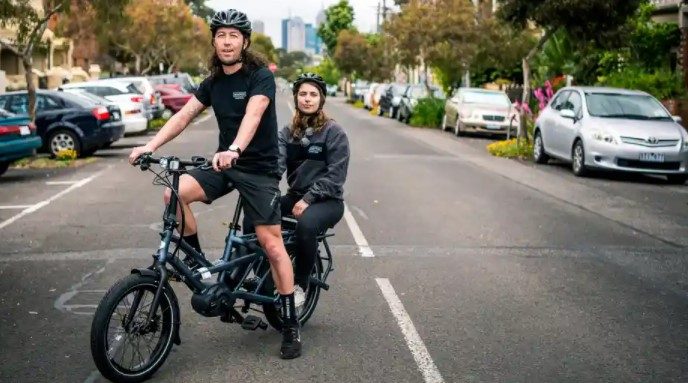 However, every city and town in New York has extensive local authorities. These local authorities' regulations require every rider to wear a helmet and reflective clothing. Some rules prohibit cyclists from accessing certain areas with e-bikes.
If you are visiting the major cities in New York for the first time, I recommend consulting your local authority before using an electric bike. It is the only way to avoid getting fines and traffic tickets due to improper e-bike usage.
New York State Electric Bike Laws In 2023
Riding electric bikes on the major highways was illegal in New York State up until 2020. NYPD was quite strict to remove all electric-assist bicycle, especially from early 2017. During these four years, most people using e-bikes were fine $500 and even some electric bikes were confiscated by NYPD.
However, the evolution and popularity of electric bikes forced the government of New York State to approve e-bike usage in April 2020.
Now, NY vehicle authority allows riders to use their e-bikes on major city roads. An e-bike with a maximum speed of 30 mph is allowed to operate on the roads.
New York State defines an e-bike as a not more than 36-inches wide. The state also holds different definition of electric bikes when compared to other states in the country.
In New York, the electric bikes are classified into three classes for easy description and understanding of their usage.
Class 1 Bicycle
These are electric-assisted bicycle equipped with pedals and motor only. The e-bikes stops when the bicycle after reaching 20mph.
Class 2 Bicycle
These are electric bikes equipped with a motor that exclusively propels the bicycle. Bikes with a speed limit of 20mph fall under this category.
Class 3 Bicycle
These are electrically assisted bikes equipped with a motor for assistance when the cyclist is pedaling. The bicycle stops when the rider stops pedaling or the bike reaches 20mph.
Do You Need Insurance For An Electric bike In New York State?
The New York State allows riders to operate their e-bikes on some roads and highways. The law came into effect in April 2020 due to the popularity of electric bikes in the United States.
So, do you need insurance for an electric bike in New York State? No. Electric bikes are not subjected to registration, licensing, and insurance in the state.
But those electric bikes with more than 250 watts and a speed limit above 25mph, will require a mandatory third-party insurance cover. It's best to contact your local authority to check if your e-bike need insurance, and wether they are allowed in the neighborhood.
Conclusion
To wrap up all the different New York state electric bike laws, it's pretty fair to say you CAN ride e-bikes on most streets. New York State classifies electric bikes as motor-driven bicycles. Although, the state has no systems for supplying registration and licensing.
Each local county has specific rules and regulations regarding electric bike usage. So, you should get familiar with all the requirements to avoid getting in trouble with local authorities. Just keep in mind that New York department of motor vehicles asserts that riding an electric bike on sidewalks and parking lots is illegal.
All in all, electric bikes are legal in New York State. But the law specifies where the riders need to operate their electric-assisted bicycles.
Disclaimer
The New York State laws and policies regarding electric bikes are vulnerable to changes. These updates will render the above information outdated and non-applicable. We recommend checking with the City, County, State, and other local agencies for recent laws governing the legal usage of electric bikes.