Affiliate Disclosure: As an Amazon Associate I earn from qualifying purchases.
Electric bicycles are one of the recent trending innovations gaining popularity amongst kids and adults. They come with the convenience and speed of motorbikes, making it an ideal choice for commuting, especially for people living in hilly areas.
Many people have been wanting to know how to properly climb hills with an electric bike. Here, is a comprehensive professional insights on how to commute a hilly area daily using an e-bike.
Can electric bikes go up steep hills? Yes, e-bikes are definitely more than equipped to handle steep hills. There are two types of motors that you can get in an e-bike. There are HUB motors and mid-drive motors. The latter is going to be the best possible choice for handling steep hills. While the HUB motors will be great for flat areas and light hills.
Unlike traditional bikes, e-bikes are different and have different functional parts like you already know. E-bikes unlike its counterparts provides optimal power and pedaling system that makes riding uphill an easy undertaking.
While e-bikes can be conveniently maneuvered over hilly terrains, a fundamental factor to having a smooth ride is knowing the necessary safety precautions, having the right composure while riding and knowing the features you should consider before buying the bike.
To get it right and master how to ride over hilly terrains, having knowledge about some of these concerns will make the process of knowing how to ride your e-bike over hilly surface much easier. Here are some basics you should have in mind:
What Safety Precautions Should You Take Before Climbing Hill With An Electric Bike?
Whether you are climbing a hill with an e-bike for recreational purposes or other reasons, your safety is paramount. You have a huge responsibility to play in ensuring that you are safe while cycling in a hilly area with your e-bike.  To ensure that you are safe when climbing a hill with your bike, make sure you: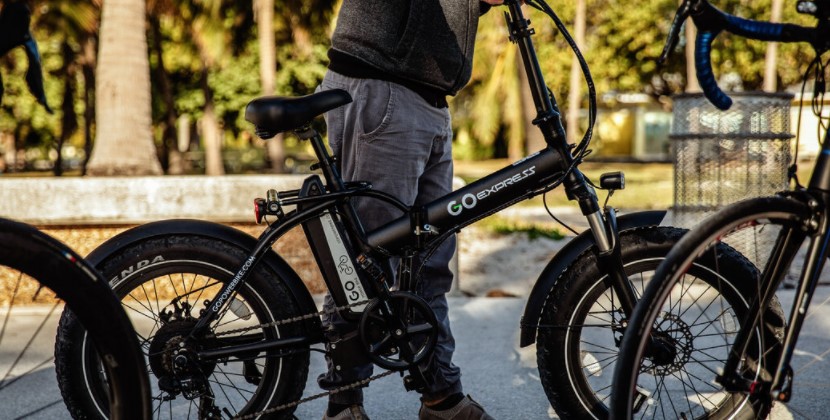 1. Check your brakes and tires
A failed brake or bad tire can cause fatal accidents, especially when going down a hill. Hence it is important always to inspect your brakes and tires to ensure that they are in a good position before taking off. Ensure that the brake wires are properly connected and that you do not have a flat or punctured tire.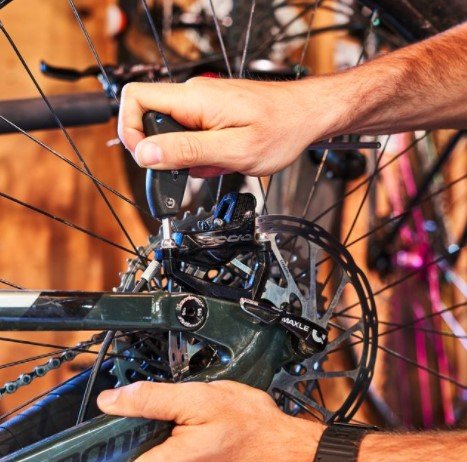 If you are using a big or rough tire, consider switching to a thin and smooth tire to help you control the bike and reduce the amount of energy you need to climb the hill. The big and rough tires are good for mountain climbing that needs much gripping. However, when using a slightly hilly road, you do not need much grip.
You may want to look out for e-bikes that offer a firm grip over hilly terrain before purchasing one. In this instance, bikes like the Schwinn Bonafide Mountain Bike, Swagtron EB-6 Bandit E-Bike, and Mongoose Dolomite Fat Tire Mountain Bike can be considered to provide a firm grip over hilly terrain.
2. Wear protective gears
Before you think about getting on your bike and taking off, ensure that you are wearing protective gear to shield yourself from falls or any other form of accident. The essential protective gear you need includes a helmet, wrist pads, elbow pads, and knee pads. Make sure that they are properly fitted and stepped as the case may be.
3. Be Moderate with weight
Overloading your e-bike can be dangerous, especially when climbing or going down a hill. It not only slows down the bike but also makes it very challenging to climb the hill. Heavyweight can also affect your battery power as you need more energy to climb up or go down the hill.
How To Properly Climb Hills With An Electric Bike
Know to the essentials about how to climb hills with an electric bicycle. To ride an electric bike uphill, make sure you pay attention to your: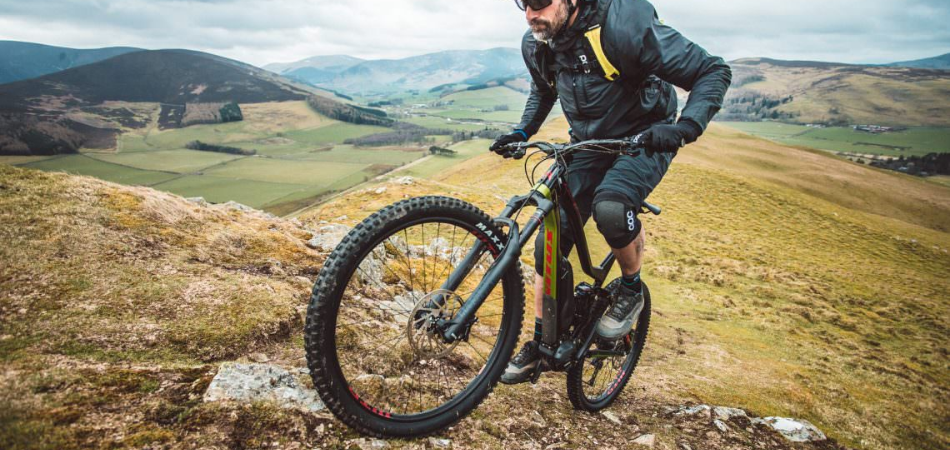 Body posture: When climbing or going down a hill, it is best to position your body weight forward to maintain friction on the back where. As you ride, bend your chest towards the bars and slightly bend your elbows to stable your weight on the bike.
Tire pressure: Your tires contribute a lot to the performance of your electric bicycle because it is the amount of friction generated from the traction of the tire that aids your movement. Hence, you should find the ideal air pressure suitable for your tire.
Pedaling rhythm: Slowing down when pedaling can cause you to lose control and balance when riding on a hill. Hence, if you are climbing up or going down a hill, maintain a consistent and fast pedaling rhythm so as it improves the efficiency of your moto and prolongs your battery life.
Apply brake on time: your e-bike has more weight than the normal motorized bike because of the battery and motor, making it heavy and challenging to apply the brake. Hence, you should apply brakes for a few minutes before the actual point you want to turn or stop.
Take charge of your battery power: pedaling on a hill without mechanized assistance can be quite handy. You do not want to enjoy the highest capacity of your battery on a plane road and then suffer using its lowest power when climbing it going down a hill. Hence, it would be best if you controlled how you use the power of your e-bike. A good post posture or position will also help you to sustain your battery power.
Follow the trail signs: when riding, be observant and follow the signs you see on the trail. They are put there to guide you and make cycling easy for you. Each area has its trail laws, so it would not be a bad idea for you to know and obey them. Since you use the route often, you can also volunteer to work on the trail.
It is important to know how to care for your electric bike, so it stays in perfect condition and continues to cater for your riding needs just as knowing how to ride an e-bike over a hill. To take good care of your electric bikes, here are important facts you should know:
How To Care For Your Electric Bike?
Caring for your electric bike is as easy as caring for a non-motorized bicycle. Maintaining your e-bike involves proper cleaning of the bike, servicing the bike's parts, including the brake and tires, and lubricating the parts of the bike that need oil.
When cleaning your electric bike, make sure to cover the battery and motor to prevent water from getting it. If you are unsure how to protect the motor and battery properly, remove the motor and battery and keep them away from the sun.
For fixing, always take your e-bike to a qualified electric bike shop with mechanics skilled in working on e-bike drive systems for proper checking, repair, and changing parts that need to be changed.
Final thoughts
The ease and convenience of e-bikes make them suitable for riding over hills without much troubles. If you follow the insights provided in this guide on how to climb hills with an electric bike, you can be master how to climb hills with an e-bike